Click here to watch our video tour of GolfPlex >>

Bear Mountain Adventure Golf at GolfPlex gives you a choice of three distinct zones - Polar, Jungle and, recently opened in May 2022, Desert! Navigate your way around each course and learn about the changing world environment. You'll meet plenty of animals along the way, from the Penguins on Ice Island to the desert camels, but watch out for the hungry Hippo teeth!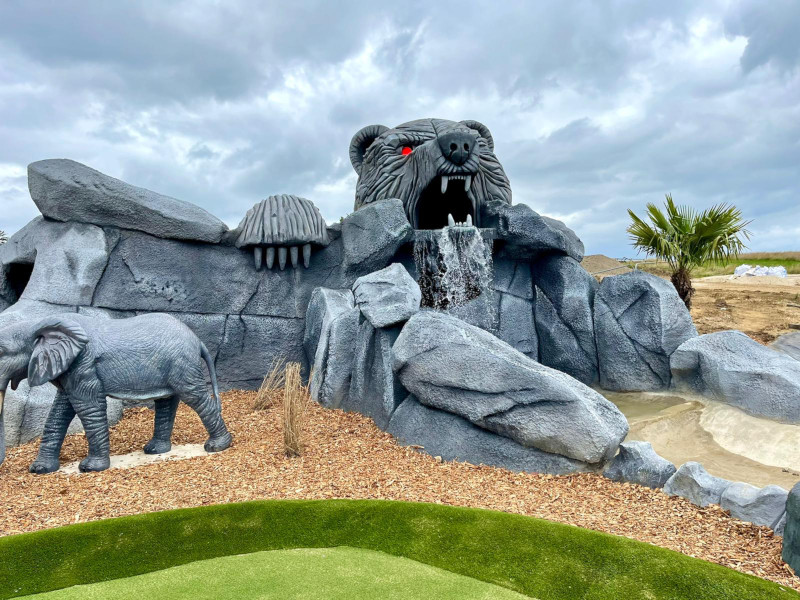 Toptracer Range, the ball-tracing technology used on televised golf tournaments, is transforming the everyday driving range experience as well. Guests of all ages and ability levels can play a variety of fun and skill-based games, compete against friends, see their shot trace, and receive instant data on interactive game screens.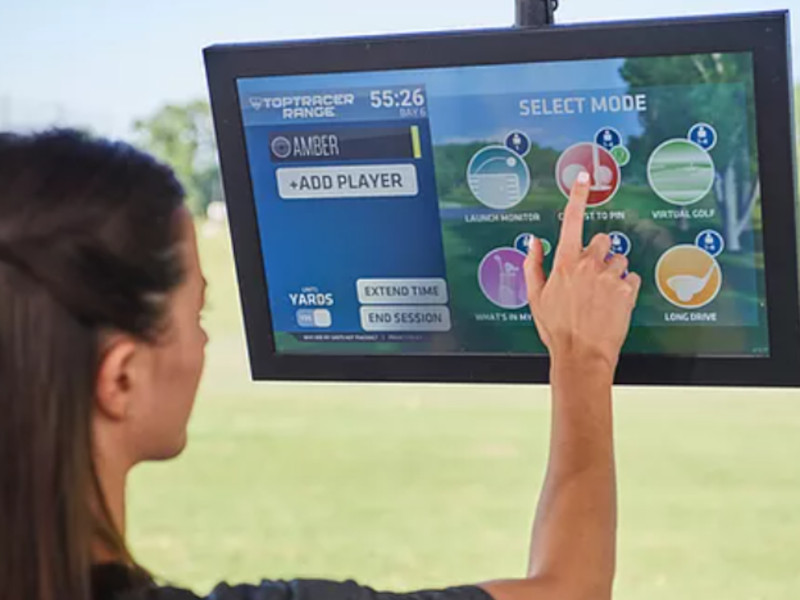 Football's coming home to GolfPlex with our fantastic new 14-hole FootGolf course. Combine the fun of golf and football together in this healthy outdoor activity. You don't need to understand either sport to participate and we'll lend you each a football. It's all about having fun with friends and colleagues - can you 'bend it like Beckham' into the hole?!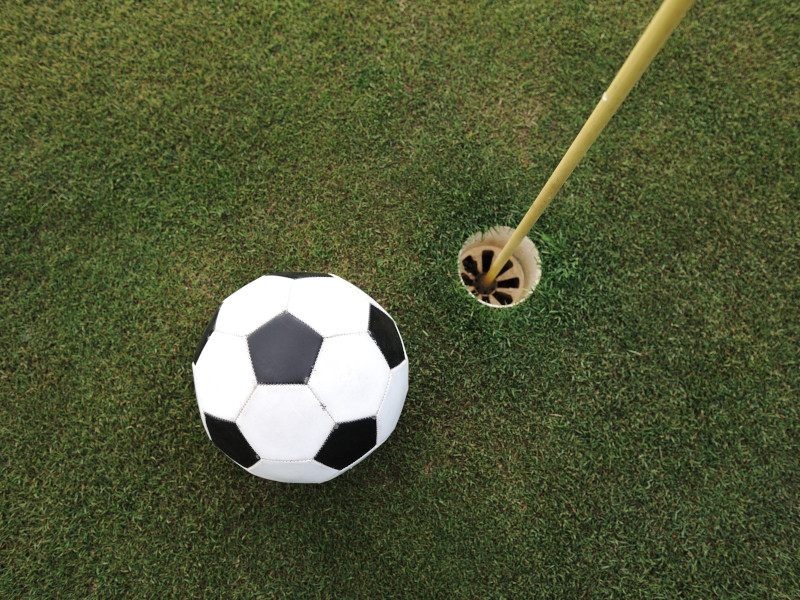 The Cafe Bar at GolfPlex offers visitors the perfect place to grab a bite to eat and drink. In addition to a wide selection of both soft and alcoholic drinks comes our freshly-prepared, stone baked pizzas from Barrel & Stone. Hand-made with the freshest of authentic Italian ingredients - best enjoyed in the Cafe Bar or served to your Toptracer Range bay.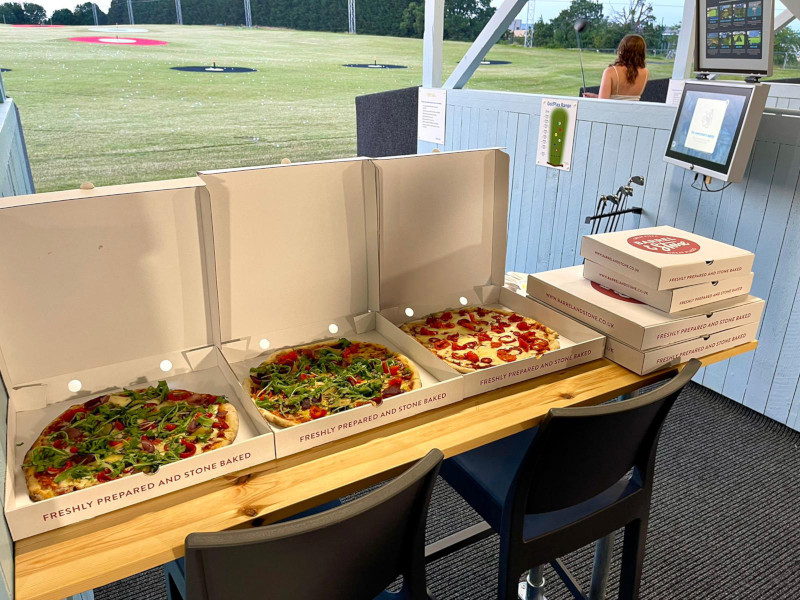 What they're saying about GolfPlex
"Brilliant complex, great games too play and not to expensive either."
Neil Hill
"I took my boy yesterday for some adventure golf and to hit some balls on the range. From the moment we walked in I felt extremely welcomed and the all staff went above and beyond. We must of stayed for 5 hours with the mini golf and we must of hit a 1000 balls between us."
Jack Coles
"Just returned from having such an amazing birthday party for my 13 year old son. From the moment I made an enquiry to the moment we left the party, nothing was too much trouble. In fact I'd say the staff went above and beyond to make my son's day special, as well as making it run so smoothly, that I could sit back, get involved and enjoy watching him have an an amazing day."
Victoria Rexworthy
"We had a fab time at the driving range and the staff are so lovely, friendly and vey helpful especially with our disabled family member and we will definitely be back."
Tina Golden-King
"Excellent facility and staff. Had a wonderful time/experience. Highly recommend this place!"
Kirtus England
"Great place with fantastic facilities and amazing pizzas. The staff are incredibly helpful and nothing is too much for any of them. A great place for a good serious practice or a fun family outing."
James Morris
"Love this place. Staff are so welcoming. Food and drink selection very impressive. Great time had by all the family. Recommend for families, date night, groups of friends, celebrations etc."
Michelle Field
"Just come back from such a fantastic evening here. Staff are so friendly and welcoming, food is delicious and the golf is so much fun we laughed all night. Can't recommend highly enough. 10/10 - we will be back soon."
Kathryn Rockall
"We had fun on both crazy golf courses and then we went to the Top Tracer range. Will definitely be coming back with friends. Staff very welcoming and friendly."
Susana Kinlock
"Great facilities, top tracer is accurate, skysports in the bar and good food and drinks."
Sean Saxty
"A fantastic facility!! We have been twice already since it opened! A great team of staff, doing everything they can to make your visit an enjoyable one. Bayley the main man was amazing with the kids giving them support and encouragement and was one of the main reason the kids were so keen to return! Looking forward to our next visit!"
Kelly K
"GolfPlex has brought golf into the 21 century with the Top Tracer games. I cannot recommend this facility and it's staff enough. The range is perfect for a Pro all the way down to a novice that just wants to have some fun. Clubs provided in each bay and as many balls as you can hit. Great value and will be coming back again and again!"
Jack Coles
"Awesome entertainment centre! Bracknell definitely needed a place like that. Great for non golfers kids to pro golfers. I'd recommend to anyone!"
Alexandre Ghiozi
"Just had a great time at Golfplex this evening, lovely to have a family friendly golf experience so close to home. Staff are very helpful and pizzas good too. Can't wait for the crazy golf to open it looks awesome."
Plum Honeychurch
"Great fun, definately worth a visit!! The staff are lovely and it is a great activity for all. I am really looking forward to my next visit with my 8 year old."
Chanell Foster
"Awesome driving range with the latest Toptracer technology and targets. Everything is brand new and staff are friendly."
Muz Mostofi
"Had a great time today at the range , staff very friendly and food and facilities great, will definitely recommend."
Andrew Hunt
Sign up and be the first to know about exclusive offers, events and more!